Welcome to the Kaapelipeli Wiki!
Hello dear visitor, Please note that development is currently on hold. During this time Studios makes plans concerning games future and upcoming content. New Game Trailers and Social media stuff will still get released during this hiatus. Stay and Play Safe!
Our Steam page is ready to serve you right here: STEAM Full version is available for a price of a coffee cup!
Kaapelipeli: The Cable Game is the world's only game about planning underground cables. Playing is simple at first: You need to guide the lonely project engineer to the transformer while avoiding angry landowners, various obstacles and weather effects. You can even "shoot" land use contracts and drills, making your job even easier. However, things tend to change as you progress... Get your planning career started here: INTRODUCTION
To get a full insight, click here: Summary
NEW ! Download Win/Linux/Mac Demo versions as Desktop-apps here: itch.io NEW !
Demo android/browser version is out! Look for it on Google PLAY , GAMESALAD ARCADE or GAME JOLT
Witness the whole Trailer here:
☀
https://www.youtube.com/watch?v=z1d8c3Z2mLY
Listen official Soundtrack here:
☀ https://www.youtube.com/watch?v=wFrfRyFYFl0
See other videos here:       
☀ https://www.youtube.com/channel/UCy2fRoSa8bmyD-pRa8hFn4Q/videos
While taking a break from playing, read the blog about game's process and development here:       
☀ https://kaapelipeli.fandom.com/wiki/User_blog:Iletzy/Future_updates_and_tweaks_June_2019
After that you can watch interesting lore from game's cycle of life @ Instagram:
☀
https://www.instagram.com/kaapelipeli_thecablegame/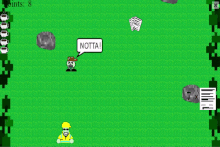 .
Kaapelipeli: The Cable Game, is a game by Ei kait siinä studios. By the way, Kaapelipeli means cable game in Finnish!
If questions like "What is this!?" and "What is happening?" are constantly on your mind. FEAR NOT. This Wiki-page is here to answer all your abashed questions. Explore Random pages to see things you want to see or use 'search' to find secrets you wish to uncover.
Quick links
Need help building out this community?
You can also be part of the larger Fandom family of communities. Visit Fandom's Community Central!
Community content is available under
CC-BY-SA
unless otherwise noted.